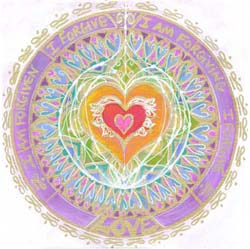 SONG: The Heart of the Matter by Don Henley


POEM: Forgiveness by Terence Winch
Father Cahir kept us holy.
He smoked cigars in the confessional.
He had a distracted air about him,
as though he wasn't sure what
he was supposed to do next.
I don't remember what he taught.
History, probably. It was his
liberal attitude as a confessor
No matter what you confessed to,
he always barked out the same penance:
"Three Hail Marys and a Good Act
of Contrition. Next!" So we tested
this leniency, confessing
to rape, murder, burglary.
penance and absolve all sins,
or total acceptance of the darkness
exactly how I hope the deity
regards us. Take forgiveness
any way you can get it.

QUOTE: "Forgiveness is freeing up and putting to better use the energy once consumed by holding grudges, harboring resentments and nursing unhealed wounds. It is rediscovering the strengths we always had and relocating our limitless capacity to understand and accept other people and ourselves." ~ Sidney and Suzanne Simon